Ron Hatfield, Beta Analytic director and lab manager, invites participants of the XVIII INQUA Congress to visit the company's booth at the exhibit hall. Mr. Hatfield will be present during the duration of the congress from July 21 to July 27, 2011. Held once every four years, this year's International Union for Quaternary Research congress will be held in Bern, Switzerland.
With the theme "Quaternary sciences – the view from the mountains," the congress will feature six days of oral and poster sessions, plenary talks, and side meetings for INQUA commissions. Social events include a congress dinner served during a boat trip on Lake Thun at the foot of the Bernese Oberland Alps as well as 22 mid-congress excursions organized by the Swiss Society for Quaternary Research (CH-QUAT).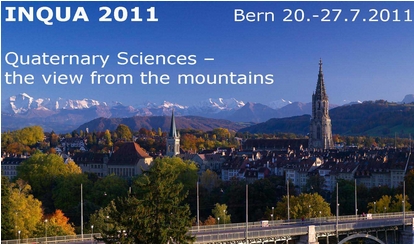 The congress will be held at four locations: the Exhibition and Congress Centre BERNEXPO, Stade de Suisse, Hotel Novotel, and Kaserne Bern.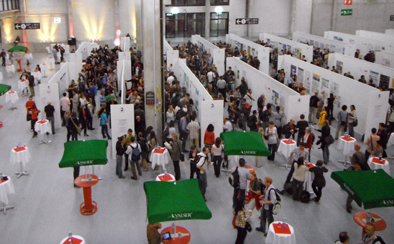 INQUA 2011 Exhibit Hall
"I am glad to be a part of such a large conference on Quaternary studies. This is a great opportunity for Beta Analytic to introduce its radiocarbon dating services to researchers from all over the world. Any questions about our company's services or radiocarbon dating are welcome," Mr. Hatfield says.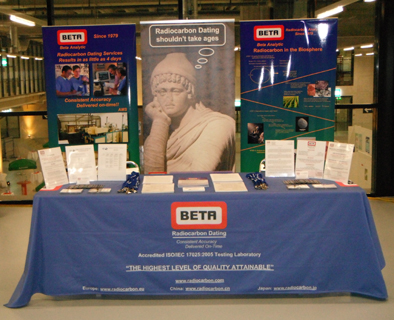 Beta Analytic's Booth at INQUA 2011
Radiocarbon Dating Quaternary Research Samples
Quaternary research focuses on the Earth's Quaternary Period, which is approximately the last two million years of the planet's history. As scientists have found out, this period was dominated by frequent global climate changes that led to a succession of glacial and interglacial ages. Scientists of different backgrounds come together to investigate complex environmental challenges of the past and document patterns and timing of climatic changes to predict the climate in the future.
Quaternary research is interdisciplinary. Scientists involved in quaternary studies include anthropologists, climatologists, geochronologists, geographers, geologists, glaciologists, isotope geochemists, palaeoceanographers, palaeoecologists, palaeontologists, palynologists, and soil scientists.
Researchers oftentimes send sediment/soil, peat, forams, pollen, insect chitin, fish otoliths, and phytoliths. These samples are subject of researches as they often provide valuable insight to climates of the past.
About INQUA
INQUA has promoted international collaboration on Quaternary research since 1928. Its current scientific scope is reflected by its five Commissions: Coastal and Marine Processes, Palaeoclimate, Humans and Biosphere, Stratigraphy and Chronology – Terrestrial Processes, and Deposits and History. As of May 2011, INQUA has 47 member countries around the world. It is a full Scientific Union member of the International Council for Science.