Radiocarbon dating lab Beta Analytic, Inc., joins the 32nd Annual Conference of the Theoretical Archaeology Group (TAG) as exhibitor. The conference will be held at the University of Bristol in the UK from December 17 to December 19, 2010. Participants interested to know more about the company's professional radiocarbon dating services are encouraged to meet Beta Analytic associate Solene de Brebisson at the exhibit hall.
Several parallel sessions have been scheduled to take place at the University's Wills Memorial Building and the Merchant Venturers Building. This three-day conference also includes two events to be presented by the Centre for Audio-Visual Study and Practice of Archaeology (CASPAR). One CASPAR event will focus on the filming of The Story of England project which was first aired on the BBC. Another event is an international festival of audio-visual archaeologies taking place in the virtual world Second Life created by Linden Labs.
Founded as a forum in 1979, the Theoretical Archaeology Group (TAG) aims to promote debate and discussion of issues in theoretical archaeology. It was started by the University of Sheffield, Cambridge University, and the University of Southampton. TAG now has other affiliates in other countries – TAG USA and Nordic TAG.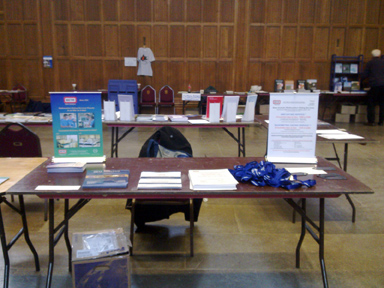 Beta Analytic Exhibit Space at the 2010 TAG Annual Meeting