ISO/IEC 17025:2005-accredited carbon-14 dating lab Beta Analytic is co-sponsoring the "Sediments: Archives of the Earth System" conference to help foster the exchange of knowledge and ideas between young researchers and experts in sedimentary geology. Sediment 2011 is going to be held at the University of Leipzig's Institute for Geophysics and Geology from June 23 to June 26, 2011.
Sediment 2011 will include four keynote lectures, poster sessions, short courses in stable isotopes and geo-electric field methods as well as field trips to the Paleogene of the Leipzig embayment, a lignite mine in Profen, and a Paleogene karst doline in Karsdorf. This year's event is organized by SEPM CES (Central European Section of the Society of Sedimentary Geology) and the Sedimentology Section of Geologische Vereinigung.
Beta Analytic is co-sponsoring Sediment 2011 to take part in the promotion of education and sedimentology research in Europe. The company would like to thank Dr. Thomas Brachert of Universität Leipzig for his assistance with Beta Analytic's advertising effort at the conference.
Carbon-14 Dating Sediment
For all sediment types, regardless of the carbon-14 dating technique, the Beta Analytic lab typically sieves all samples (between 125 to 180 microns) in an attempt to remove and isolate any macrofossils (plant, shell, etc). If macrofossils are found in sufficient quantities, the lab pretreats them according to the material type and then provides the submitter with a list of available material types for dating as well as the techniques required for each based on their quantities.
Clients submitting sediments are encouraged to contact the lab before preparing the samples. Beta Analytic lab managers welcome inquiries regarding sample preparation of sediments for carbon-14 dating.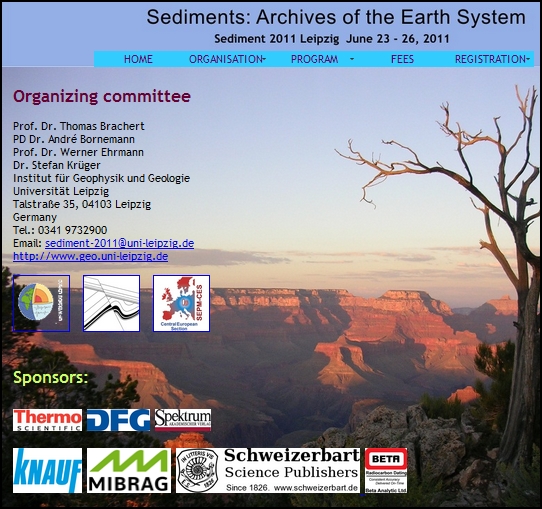 Beta Analytic's Carbon-14 Dating Services
Beta Analytic is the fastest professional Carbon-14 dating lab in the world. Lab results are routinely available in 25 business days or less. Expedited services with turnaround time of 2-6 business days are also available. Results are archived online, and clients can usually access their results 24/7.
Clients may send their samples directly to the lab in Miami, Florida, or to the nearest sample forwarding facility. Beta Analytic has offices in Sydney, Australia; Sao Paulo, Brazil; Beijing, China; New Delhi, India; Nagoya, Japan; and London, UK.
Beta Analytic would be glad to supply lanyards to other sedimentology conferences. Sponsorships and advertising information are also welcome. Please email advertising opportunities to Ms. Sonia Oberoi at lab@radiocarbon.com.