Beta Analytic Global Operations Manager Florencia Goren invites participants of the "Hydrogeology of Arid Environments" conference to visit the company's booth at the exhibit hall. The four-day conference in Hannover, Germany, is scheduled to begin on March 14, 2012. Ms. Goren welcomes any inquiries regarding the practical applications of groundwater dating.
The conference aims to provide a better understanding on the dynamics of groundwater resources under changing climate and hydrological conditions as well as to address the challenges in groundwater use. It is organized by the Federal Institute for Geosciences and Natural Resources (BGR) with the support of the Fachsektion Hydrogeologie in der Deutschen Gesellschaft für Geowissenschaften (FH-DGG), German Water Partnership (GWP), International Association of Hydrogeologists (IAH), and Helmholtz Centre for Environmental Research (UFZ), among others.
According to Ms. Goren, radiocarbon dating of well waters measured on a regular basis provides a direct empirical tool to monitor dynamic changes within groundwater systems. "Groundwater dating can be used to define aquifer characteristics and predict contamination. Monitoring the natural radiocarbon in the water over time will potentially indicate increased draw down before contamination occurs. Groundwater contaminated with surface water will have a radiocarbon age representing the mixture of the two components. By monitoring the radiocarbon age at gradually reducing pump rates, a maximum "clean water" pump rate will be represented by the oldest age observed. Hopefully the well will have been dated previously while it was pumping clean water and dated recently with the contaminating waters included. Monitoring pollutants will only tell you that you are, or are not, pumping clean water again. Radiocarbon provides a means to determine what level you can pump so you don't re-contaminate the well again," Ms. Goren explains.
ISO/IEC 17025:2005-accredited Beta Analytic provides groundwater dating with a standard turnaround time of 14 business days. The lab is based in Miami, Florida, and has sample forwarding facilities in Sydney, Australia; Sao Paulo, Brazil; Beijing and Xiamen, China; New Delhi, India; and London, UK.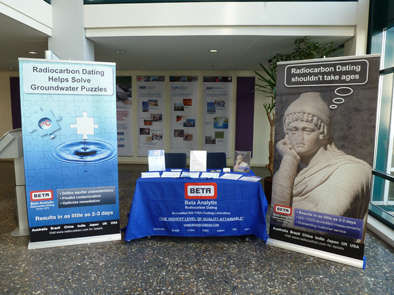 Beta Analytic's booth at the Hydrogeology Conference
Radiocarbon Dating Groundwater
Radiocarbon (14C) occurs naturally in dissolved inorganic carbon (DIC) within groundwater systems. The original source of the radiocarbon is from dissolved CO2 within meteoric waters at the recharge zone. Aquifers with long residence times will show old radiocarbon dates and those with short residence times will show young radiocarbon dates. Stable aquifer systems should show similar radiocarbon dates from year to year. Depletion of supply or contamination from surface waters will directly influence the radiocarbon date. This information is invaluable to the resource manager.
Chemical analyses deliver results which are understood by hydrological engineers and researchers but not always by commissioners, regulators, and the general public. Since changing radiocarbon dates are easily understood, communication between the scientist and the managers and the public is greatly enhanced. This has strong implications with regards to procuring research funds and contract awards from regulators and planners.
About Beta Analytic
Beta Analytic is a dedicated radiocarbon dating accredited to ISO/IEC 17025:2005 and operating in conformance with ISO 9001:2008 management system requirements. It has demonstrated both the technical competency and management system requirements necessary to consistently deliver technically valid test results. These standards are universally recognized as the highest level of quality attainable by a testing laboratory. For details, visit www.radiocarbon.com.
Contact:
Florencia Goren
Global Operations Manager
Direct Phone: 001-305-600-4895