Beta Analytic Research & Development Associate Pat Patodia will be promoting the lab's services at the International Conference on Geology, Geotechnology, and Mineral Resources of Indochina (GEOINDO 2011) scheduled to take place at Kosa Hotel in Khon Kaen, Thailand, from December 1 to December 3, 2011.
"This is the first time we are exhibiting at this conference. I am looking forward to introduce our radiocarbon dating lab's fast services to geologists and geotechnologists. This year, we've further improved our AMS standard service standard turnaround time from 20-30 business days to 14 business days. Our fees also include C12-C13 measurements and calendar calibration if applicable," Ms. Patodia says.
The topics for the conference technical session include geology and mineral resources, geotechnical engineering and geomechanics, petroleum and energy resources, groundwater resources, geophysics and environmental geology, tectonics and earthquake, and geohazards. The post-conference excursion will include a visit to Luang Prabang City, a UNESCO World Heritage site in Laos, from December 4 to December 8, 2011.
GEOINDO 2011 is organized by the Department of Geotechnology, Faculty of Technology, Khon Kaen University (KKU) in collaboration with other academic and governmental organizations.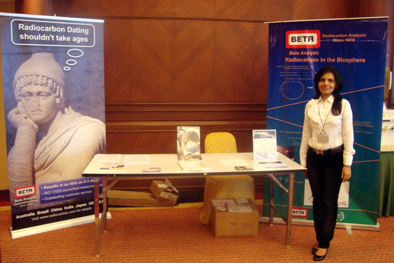 Pat Patodia at Beta Analytic's Tabletop Display during GEOINDO 2011
Beta Analytic AMS Dating Services
Based in Miami, Florida, ISO/IEC 17025:2005-accredited Beta Analytic is the world's largest professional radiocarbon dating lab. Its AMS dating standard service has a turnaround time of 14 business days. Expedited services are also available with results released between 2 to 6 business days. Beta Analytic clients can access their online results archive 24/7. This archive includes sample images at different stages of analyses and quality assurance reports that provide supporting validation for the results.
To provide clients with cost-effective shipping solutions, Beta Analytic has set up sample forwarding facilities in major cities around the world including Sydney, Australia; Sao Paulo, Brazil; Beijing, China; New Delhi, India; Nagoya, Japan; and London, UK.
For details on the lab's services, please contact Pat Patodia at (1) 305-667-5167 or lab@radiocarbon.com. Questions can also be sent via Live Chat at www.radiocarbon.com.