Days after exhibiting at the Institute for Archaeologists' annual conference in the UK, Beta Analytic continues its promotional efforts in Europe by joining the European Geosciences Union (EGU) General Assembly 2012 to be held in Vienna, Austria. The event will take place at the Austria Center Vienna from April 22 to April 27, 2012. Beta Analytic's exhibit can be found at Booth 29 with Operations Manager Florencia Goren taking charge of all inquiries.
"I am excited to represent Beta Analytic in one of the biggest gatherings for geoscientists in Europe. This conference is a great avenue to highlight our organization's commitment to provide researchers with high-quality data at the shortest possible time. Since late last year, we've substantially reduced our standard turnaround time from 25 business days to 14 business days. Our lab is able to provide fast AMS dating services because we have full-time professional technicians focused solely on the analyses. We also have several machines and an efficient chain of custody procedure," Ms. Goren says.
This year's programme includes union symposia, inter-division sessions, educational and outreach symposia, as well as oral and poster sessions on disciplinary and interdisciplinary topics covering the full spectrum of the geosciences and the space and planetary sciences. Other activities include lectures, debates, short courses, business meetings, workshops, and presentations in the job and education market.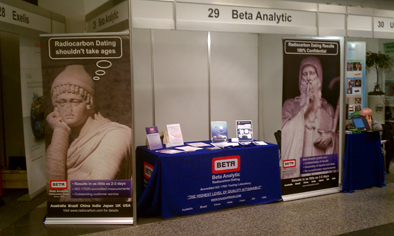 Beta Analytic's Booth at the 2012 EGU General Assembly
EGU 2012 expects more than 10,000 geoscientists from at least 95 countries around the world. Over the years, the number of participants have steadily grown. There were around 10,400 participants in 2010 and about 10,700 participants in 2011.
The EGU is a non-profit organization dedicated to the pursuit of excellence in the geosciences and the planetary and space sciences. Its general assembly attracts thousands of scientists each year. The EGU has a diverse portfolio of 14 open-access peer-reviewed journals with authors and editors from more than 69 countries.
Beta Analytic supports the EGU by regularly joining its general assembly as an exhibitor or advertiser.
About Beta Analytic
ISO/IEC 17025:2005-accredited Beta Analytic is a dedicated radiocarbon dating laboratory based in Miami, Florida. All analyses are performed in-house by dedicated professional scientists. Its multiple laboratories in Miami ensure redundancy and dependable delivery. The company is respected worldwide for accuracy, quality, and customer care. Beta Analytic has sample forwarding facilities in London, UK; Sydney, Australia; São Paulo, Brazil; Beijing and Xiamen, China; New Delhi, India; and Nagoya, Japan.
Contact:
Florencia Goren
Tel – (1) 305-600-4895
Email – lab@radiocarbon.com