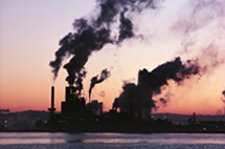 Researchers from the University of Groningen suggest that companies use carbon-14 based methods to determine the biogenic fraction of industrial CO2 emissions. Emission authorities can also use this modified form of radiocarbon dating to verify data estimations of biogenic CO2 emissions as carbon-14 methods have proved to be reliable and sensitive to such application.

Flue gas CO2 samples collected from a power plant and a waste incineration plant were analyzed for their carbon 14 content. Flue gas from the power plant that incinerates coal with wood had 5-10% biogenic content while gas collected from the waste incineration plant had 48-50% biogenic content.
The researchers noted that biogenic CO2 fraction of <10% need to be corrected for sampled carbon-14 from atmospheric air.
Research title: Carbon-14 based determination of the biogenic fraction of industrial CO2 emissions – Application and validation
Source: Bioresource Technology Volume 101, Issue 10