ISO/IEC 17025:2005-accredited Beta Analytic is one of the sponsors of the British Sedimentological Research Group (BSRG) 2011 Annual General Meeting to be held in the Royal School of Mines at Imperial College, London, from December 18 to December 21. This year's event is the 50th annual general meeting of the BSRG.
Aside from plenary and poster sessions, there will be an icebreaker reception, conference dinner, joint technical session with the Clay Minerals Group, a core interpretation workshop, a seismic interpretation workshop, and a field trip to visit exposures of the Folkestone Sands Formation of the Lower Greensand Group in the Weald Basin (Surrey and Sussex).
Confirmed keynote speakers include Cédric John (Imperial College), Richard Labourdette (Total), Tom McKie (Shell UK), Mike Stephenson (British Geological Survey), Tor Sømme (University of Bergen), Kevin Taylor (University of Manchester), and Fiona Whitaker (University of Bristol).
An affiliate of The Geological Society of London, the BSRG is an informal group composed of academics, graduate and postgraduate students, and geologists working in the petroleum and allied industries. The group promotes all aspects of sedimentology and provides a community for those involved in teaching and research. Members are not only from the UK but also from other countries around the world. The BSRG is connected with the International Association of Sedimentologists (IAS) and the Society for Sedimentary Geology (SEPM).
Beta Analytic would like to thank meeting convenors Dr. Christopher Aiden-Lee Jackson and Dr. Gary Hampson for their assistance. The company's logo is displayed in the event's sponsors web page and an ad is included in the book of abstracts and conference program.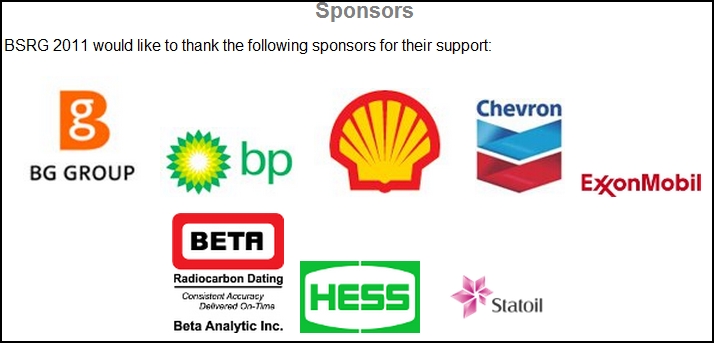 Beta Analytic's Improved Services
Based in Miami, Florida, Beta Analytic supports sedimentologists worldwide by providing professional radiocarbon dating services with turnaround times faster than most university labs. Its standard AMS dating service provides results in 14 business days or less. Expedited services are available with results released in 2 to 6 business days.
The lab's fees are inclusive of Carbon-13/Carbon-12 measurements, calendar calibration when applicable, quality assurance reports, and 24/7 web access to past and pending results with photos of samples submitted.
Beta Analytic encourages sedimentologists in Europe to submit their samples for radiocarbon dating to the company's office at the London BioScience Innovation Centre. All samples sent to London are forwarded to the Miami lab via overnight courier service at Beta Analytic's expense.