ISO/IEC 17025:2005-accredited radiocarbon dating lab Beta Analytic Inc. (BETA) has reduced the turnaround time of its standard AMS dating service from 25 business days to 14 business days. With quality assurance data with all results, clients now also have more complete data in their online results archive, which they can easily access any time.
"We are committed to provide accurate and precise results to our clients and deliver these results on time, even while they are still out on fieldwork. We are equally committed in providing a high level of customer service. More importantly, we will continue to improve our services and processes to better serve our clients," Beta Analytic President Darden Hood says.
Results in 14 Days or Less
As of September 1, 2011, all clients who've sent samples for AMS dating have received a free upgrade from standard to advance delivery. The standard AMS delivery time is now 14 business days from the receipt of the sample. The lab no longer offers advance AMS service. Faster services, however, are still available:
* Priority Service – Results in 6 working days or less
* Time Guide Service – Results in 2-3 working days
Beta Analytic Price Inclusions
The lab's prices are inclusive of Carbon-13/Carbon-12 measurements and calendar calibration when applicable.
All BETA clients also receive a Quality Assurance Report which provides supporting validation for their results. This report documents ISO/IEC 17025:2005-accredited concurrence between expected and measured values for reference standards analyzed quasi-simultaneously with the samples. This report is one of the newly added features to a client's web directory.
Improved Web Access Utilities
BETA clients can view all their past results and pending analyses by accessing their online archive. They can download the final report in pdf and view or download pictures of samples submitted during the analyses. Clients can also download a spreadsheet file of their results.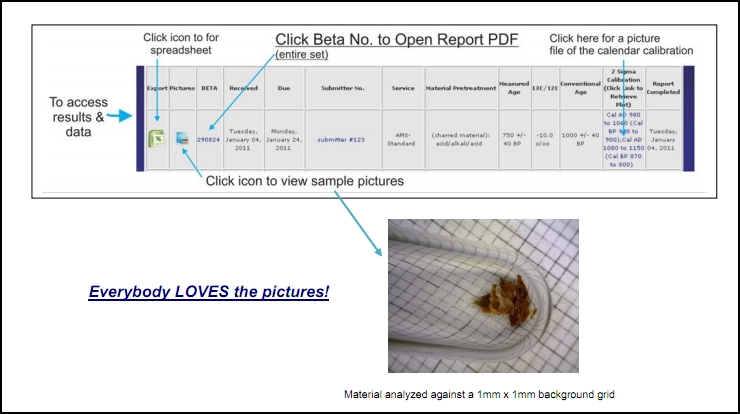 AMS Dating Service Worldwide
As part of efforts to provide cost-effective shipping solutions, BETA maintains sample forwarding facilities in major cities around the world. BETA offices and representatives are located in Sydney, Australia; Sao Paulo, Brazil; Beijing, China; New Delhi, India; and London, UK.
BETA is the world's largest radiocarbon dating lab. The company has served the archaeology, geology, forensics, groundwater, and cultural resource management industries since 1979. The lab is trusted by many researchers, universities, institutions, and government agencies around the world.