ISO/IEC 17025:2005-accredited laboratory Beta Analytic will promote its fast AMS dating services to members of the Asia Oceania Geosciences Society (AOGS) and its partners by exhibiting at this year's AOGS – AGU (WPGM) Joint Assembly to be held in Singapore. China Operations Manager Fuming "Steven" Liu and Deputy Operations Manager for Europe and Australasia Ms. Pat Patodia are inviting conference participants to visit Booth A4 at the exhibit hall from August 13 to August 17, 2012.
"Pat and I are excited to be a part of such a big gathering of geoscientists from Asia and Oceania. Many researchers are still not aware that they can get radiocarbon dating results in a matter of days. I am sure they will appreciate our lab's fast and reliable service," Mr. Liu says.
"Beta Analytic has significantly improved its turnaround time and online archive to provide clients with high-quality results and excellent customer care. Clients can view all their past results and pending analyses in their online archive. They can also download results and photos of their samples," Ms. Patodia adds.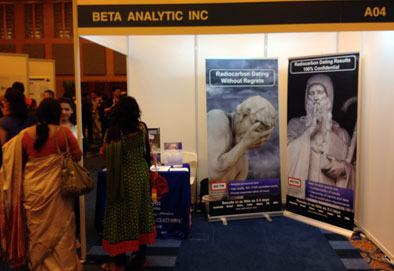 Beta Analytic Booth at the AOGS 2012 Annual Meeting
More than 2,000 researchers are expected to join the conference at the Resorts World Convention Centre in Sentosa Island. Poster sessions and lectures are grouped into eight sections – atmospheric sciences, biogeosciences, hydrological sciences, ocean sciences, planetary sciences, solar and terrestrial sciences, solid earth sciences, and interdisciplinary working groups. Aside from poster display and lectures by distinguished geoscientists, there will also be business meetings, a book launch, and a public forum on "Water Related Hazards."
Established in 2003, the AOGS is an international society that promotes geophysical science and public benefits for Asia and Oceania through conferences and publication of journals. Its partners include the American Geophysical Union (AGU), the European Geosciences Union (EGU), the International Union of Geodesy and Geophysics (IUGG), Japan Geoscience Union (JpGU), the Asia Pacific Association of Hydrology and Water Resources, the Science Council of Asia, and Asia-Pacific Space Geodynamics (APSG).
Beta Analytic AMS Dating Services
The company has served the geoscience industry since 1979. Over the years, it has improved its services and cut down its AMS dating standard turnaround time from 25 business days to 14 business days. To provide cost-effective shipping solutions to clients, Beta Analytic also maintains sample forwarding facilities in Sydney, Australia; Sao Paulo, Brazil; Beijing and Xiamen, China; New Delhi, India; and London, UK.
Contact:
Fuming Liu
Tel –  (+86) 010 5982 2196
Email – lab@radiocarbon.com